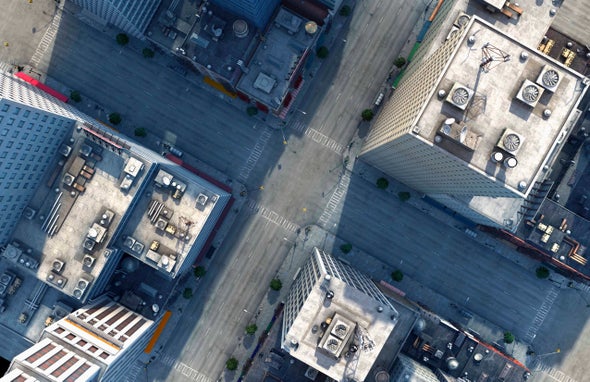 Normally in a recession, you'd expect CO2 reductions to be associated with declines in manufacturing and shipping, said Houser of Rhodium. Almost the opposite has happened this year.
Shipping remains constant, and manufacturing has been slow to shut down. As Carbon Brief noted, Beijing even recorded a severe smog day during China's lockdown. Many steel and coal plants continued to run throughout the shutdown, though often at reduced levels.
Instead, record declines in surface transportation are driving the world's emission reductions. Rystad Energy, a Norwegian oil consultancy, estimates that traffic levels fell on every populated continent.
Traffic is down 54% in the United Kingdom, 36% in the United States and 19% in China.
Air travel, meanwhile, was down 40% in the 12 weeks since China reported its first 500 cases of COVID-19. In Europe, nine out of every 10 flights have been grounded.
The result has been a historic collapse in oil demand.
The global appetite for jet fuel will likely fall 65% in April and May compared with last year. In the U.S., gasoline demand for the four weeks ending April 17 fell 41% compared with the same time last year, according to Department of Energy statistics.
The International Energy Agency estimates that global gasoline demand will fall by 11 million barrels a day in April, the largest monthly decline on record, and another 10 million barrels a day in May.
Call it the crude disappearing act of 2020.
And yet the global economy is still consuming lots of oil.
Lost amid the hubbub around oil is this: IEA still expects the world to consume 76.1 million barrels a day in the second quarter of this year.
Who's consuming all of that crude? For starters, gasoline and jet fuel demand is down dramatically but hasn't disappeared. U.S. refiners sent an average of 5.5 million barrels of gasoline to the market over the last four weeks.
Diesel demand is down, but its losses have been limited thanks to the strength of freight and shipping. IEA expects diesel demand in 2020 to be down 7% compared with the previous year.
Then there are petrochemicals, which have been unevenly impacted by the crisis. Plastics used in auto manufacturing are down, but plastics used for food packaging are up.
Overall, IEA thinks demand for plastic feedstocks like ethane and naphtha will decline on the year, but not to the same degree as gasoline or diesel.
The numbers illustrate just how intertwined oil is with the global economy. Cars and planes can be parked en masse, and yet widespread oil consumption continues.
"The crisis shows how challenging decarbonizing the economy purely through behavioral adjustment would be," Houser said, noting that individual decisions about not driving or flying deliver only limited emissions reductions.
"What we need are technological solutions that allow our economy to operate at 100% with 5%-8% annual reductions going forward," he said.
Forecasters expect emissions to fall more than 5% in 2020, the greatest annual reduction on record. But it's still short of the 7.6% decline that scientists say is needed every year over the next decade to stop global temperatures from rising more than 1.5 degrees Celsius.*
"If you assume a proportional decline in [gross domestic product] and emissions, what feels like an economical catastrophe is a fairly modest reduction in emissions compared to where we need to go," said Trevor Houser, who leads climate and energy research at the Rhodium Group, a research firm.
Why it's hot: The modern global economy is heavily intertwined with oil, so imagining a future without it is still far away.
Source: Scientific American