A startup named Cooler Screens is piloting a new door for commercial freezers and refrigerators that's equipped with a
camera
motion sensors
eye tracking
in six Walgreens pharmacies around the country, including the one by Union Square in NYC.
The doors can discern a couple of things:
you gender
general age range
what products you're looking at
how long you're standing there
and even what your emotional response is to a particular product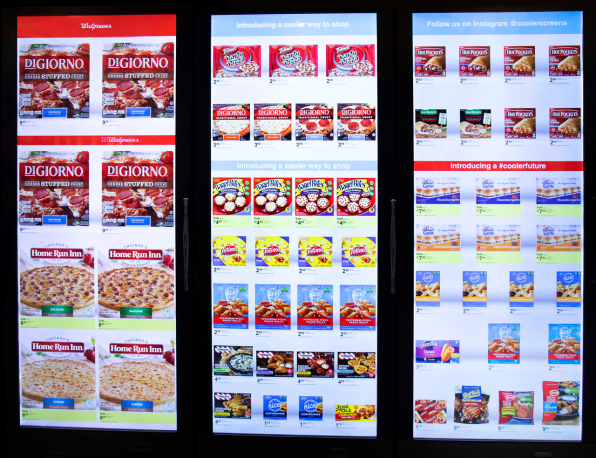 The company's research has shown that 75% of shoppers make decisions about what they're going to buy from coolers on impulse.
For instance, if a man is standing in front of a cooler where Coke is displaying ads, the cooler might show a Coke Zero ad since that particular product skews more male, while a woman might see a Diet Coke ad.
Similarly, the doors also use contextual information like the time of day to convince you to buy more. You could pass by the beer door, and [the door] may notice that you're picking up a six-pack of Miller Coors. It's 4 p.m., so it's near dinner time. [It might] offer to you, buy a DiGiorno pizza for a special price if you're buying a six-pack of Miller Coors.
Cooler Screens already has advertising deals with more than 15 of the 20 top consumer packaged goods companies, including Coca-Cola, Pepsi, Nestle, and MillerCoors.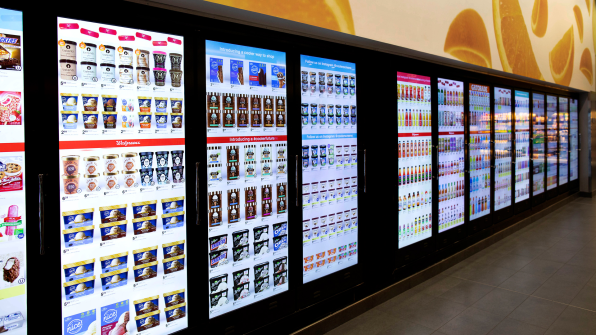 Why it's hot: It's real time consumer profiling and ad targeting in a physical store location.