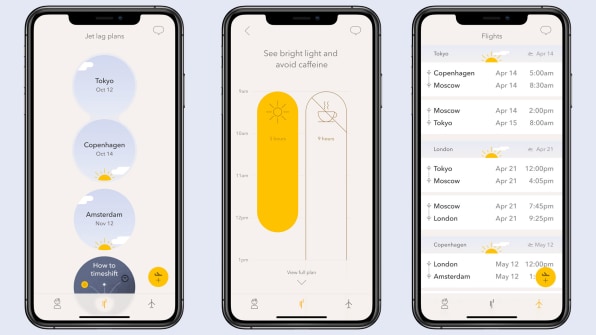 Introducing Timeshifter: an easy-to-use, straightforward app that helps people fight jet lag. Users simply enter in their full flight details (including multi-leg flights, stopovers), chronotype (morning person or a night owl), along with their individual sleep patterns. The latter is composed of your preferred bedtime/wake-up times as well as any other favorite aids, like melatonin or coffee intake.
Timeshifter then instantly delivers a personalized sleep schedule. It's a full plan accompanied by push notification alerts like "avoid caffeine for the next 6 hours," "expose yourself to light starting in 30 minutes," or "take melatonin." One can start it three days in advance of one's flight or up until a minute before take-off, though the plan changes depending on advance lead time. The service costs $10 per jet lag plan or $24.99 for an annual subscription.
"Our plans have a practicality filter, where the advice fits with what you can really achieve in the real world," says Dr. Steve Lockley, a neuroscientist and associate professor of medicine at Harvard Medical School. The renowned expert in circadian rhythms and former NASA consultant developed the Timeshifter app algorithm after a decade of devising custom jet lag plans for Formula 1 drivers and astronauts.
The app is unique in that it's entirely based on sleep neuroscience and focused on shifting one's internal clock forward. As Timeshifter cofounder and CEO Mickey Beyer-Clausen, explains, beating jet lag involves moving one's circadian cycle to the new time zone as soon as (feasibly) possible. But it's not one-size-fits-all. Based on the information provided by each user, Timeshifter could have hundreds of different versions of the same trip, depending on sleep patterns or even when they started using the app.
The app also strives to make actions attainable based on your schedule. "So if you're asked to avoid light, it doesn't mean being in complete darkness or closing your eyes. It means being exposed to less light than [usual]," explains Lockley. "There's no point in advising you go to bed at 7:00 PM because the chances are you're not really gonna do that."
While several other jet lag apps exist, such as Jet Lag Rooster, they do not base circadian rhythm on personalized details. Others, like Uplift, recommend timed acupressure to prevent jet lag.
Why it's Hot:
This is an awesome use of technology and human knowledge. It would have been an amazing piece of technology for a modern travel brand to create to build a more holistic user experience. I could also see travel brands like Away including a trial for this app with a purchase of their suitcases.