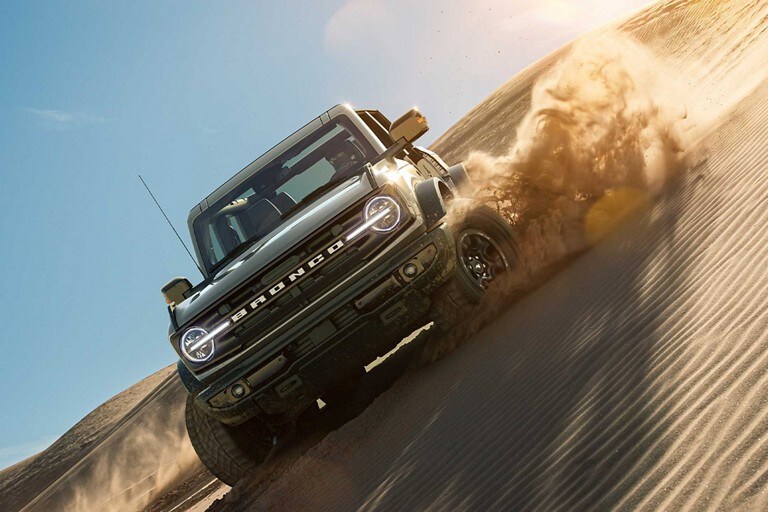 After 25 years the Ford Bronco is back for 2021. The model was discontinued in 1996 after the market shifted, to make room for a new breed of over-sized family SUVs that allowed suburbanites to feel like they weren't over the hill. No, it was not discontinued because of OJ, but it's a common assumption.
They had a lot to cover to make this relaunch a success.
Connecting the new model to its storied history as "America's first SUV" and educating the audience about that history? Check.
Authentically tapping into the spirit of adventure and escapism that defines the category? Check.
Triggering the public's wanderlust after being cooped up for months by Covid? Check
Embodying the power and rugged emotionality of wild horses and the Great American West? Check.
Shrugging off Ford's weak "Ford-Focus" image. Check.
The copywriters had a field day in the ads, with gems like:
Literally calling the vehicle a "horse".
"You need something that can look adventure in the eye, and give it a firm handshake."
You need something that's not happy until it takes you through whatever creek or snow or mud or mountain trail or dune or logging road or landmark with death in its name. You need a Bronco."
"Built as wild as what you're looking for."
To Dos:
Launch it like it's the blockbuster event of the summer
OPENING LINE: "There's still some wild out there…"
Explain why it's the antidote to the disappointment of the American mythology's unfulfilled promise of a life of adventure

OPENING LINE: "This country has a strange relationship with the wild. As much as we talk about it, and paint paintings of it, and sing songs about how we're destined to be it, we seem to spend every waking hour in places that keep us away from it… so to get back to the wild, we need something built for it."
Tap into our primal instincts of auditory association
TONIGHT, 8:00pm EDT. Ready to unleash the wild? #FordBronco pic.twitter.com/jHmn8y2dLm

— Ford Motor Company (@Ford) July 13, 2020
Show audiences the R&D
Show off your history / remind people you're a legend

Use the old to sell the new
Make it a lifestyle
Get the nerds to geek out on features
Ford Press Release:
"Academy Award-winning director and acclaimed cinematographer, photographer and professional climber, Jimmy Chin, collaborated with Disney CreativeWorks, Disney's award-winning creative agency, to co-create network reveal stories with the Ford team."
From Tech Crunch:
The launch of the Bronco looks to be a masterclass in nostalgia. For the last few weeks, Ford has been feeding journalists with media assets — pictures, staged interviews and upcoming advertisements. I've yet to see the full vehicle because in the end, Ford is not relying on the Bronco itself to drive sales, but rather, is digging deep into the power of nostalgia to move the Bronco off lots.
Recalling the past can help companies develop a unified theme around a product or service. In this case with the Bronco, only recalling part of the past helps companies dial in messaging. With Ford, the company wants consumers in agreement: This is a tough vehicle and it's always been a tough vehicle. Forget about OJ, these adverts say. Instead, look at how the Bronco was used by two burly men bounding over the rolling hills of a cattle ranch. Ford is digging deep into American lore to show the Bronco as a rugged conqueror of the frontier instead of a conqueror of parking lot flowerbeds.
Why it's hot:
They treated the relaunch like a summer blockbuster, teasing it for weeks.
They let viewers in on the R & D process and let the car nerds talk it up.
They connected to powerful auditory sensations in ads.
They showed us all the places we wish we could go, tapping into our pent-up covid wander lust.
They re-worked their famous tagline just for this: From Built Ford Tough to BUILT WILD
The Ford logo is nowhere to be found, even on the vehicle itself. This is all about the BRONCO franchise.
They built an affinity community around it with tons of features to make it a lifestyle.
Source: Twitter, Ford, Tech Crunch