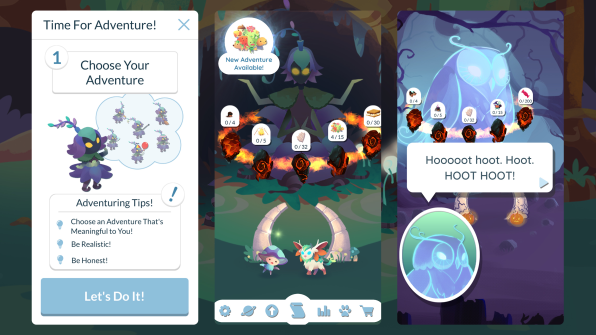 What if there were something that could help snap you out of your rut, be it a temporary funk or actual, clinical depression? And what if this something were designed to make doing good things for yourself as addictive as a video game? That's the premise of The Guardians: Unite the Realms, a new app developed by the Affective Computing group at MIT Media Lab.
Out now for iOS and Android, it's a free game, modeled after character collection games like Pokémon and Skylanders (though without any fighting). Instead of urging you to spend money on microtransactions as most of these games do, The Guardians urges you to spend effort on yourself. If you want to progress in the game, you have to invest in your own well-being.
The data shows that people who are depressed don't want to use self-improvement apps (only about 3% will complete a regimen in these apps). At the same time, people with severe depression still play games as much as people who aren't experiencing depression, making gaming a promising avenue for introducing mental health interventions.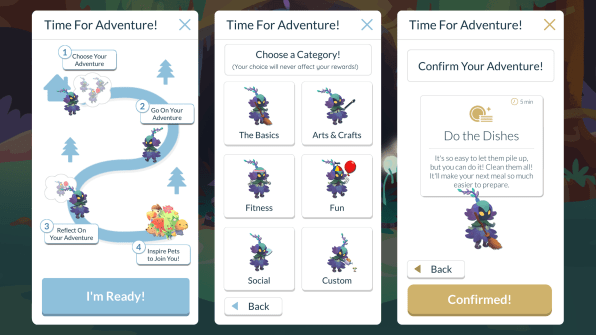 Over years of both formal study and informal play-testing in the lab, lead platforms engineer at the Affective Computing group and game director for the Guardians Project Craig Ferguson morphed the app into what it is today – a fantasy land filled with magical animals that attempt to take their world back from an evil villain. Last September, he got tired of the research and started thinking about releasing something—even something still unproven—to help people battling depression. Then with COVID-19 trapping so many of us at home, he made the choice to publicize what was done.
That release, while a fraction of what the game will be in the future, he says, can still take months to complete, and it's presented with as much glitzy animation and character design as you'd find in any high-end mobile app.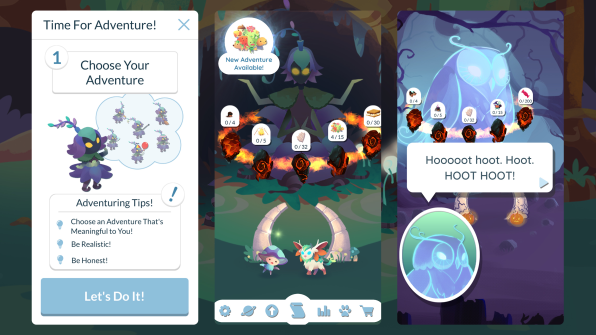 When you load the game, a big button glows and bounces in the upper left-hand corner of the screen, reading "new adventure available." This is essentially a good-for-you button, because each adventure is focused around the phenomenon of "behavioral activation." Behavioral activation is a proven therapy that can be used casually or clinically for depression. It gets people to partake in positive experiences rather than spending time doing the things that reinforce their own damaging behaviors. And there are dozens of options to choose from.
Some suggested adventures are practical, such as knocking things off your to-do list that might otherwise cause anxiety: Manage finances. Vacuum. Do Laundry. Others help you grow: Watch an online class. Write a poem. Read a classic. And others help you stay active: Spend time in nature. Learn a new dance. Or, my personal favorite, Jazzercise for 20 minutes. You are also completely free to make up your own adventure, and repeat it whenever you'd like.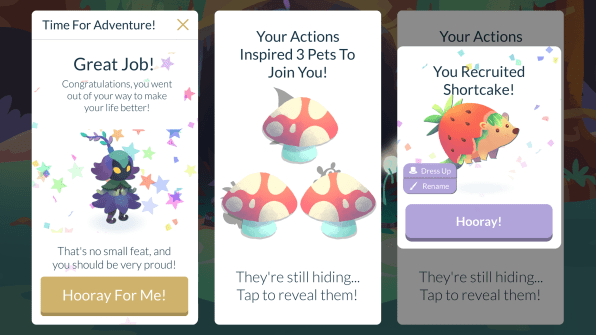 Why it's Hot:
With so much content promoting self care and wellness during shelter-in-place, wellness can begin to feel like a chore. This is especially true for people who struggle with depression, where even small tasks can feel unmanageable. This app helps to make those small tasks fun and purposeful (albeit in an imaginary game). With a mental health crisis looming on top of our current physical health crisis, it's interesting to see an app that tackles this very serious situation in a seemingly light-hearted way.