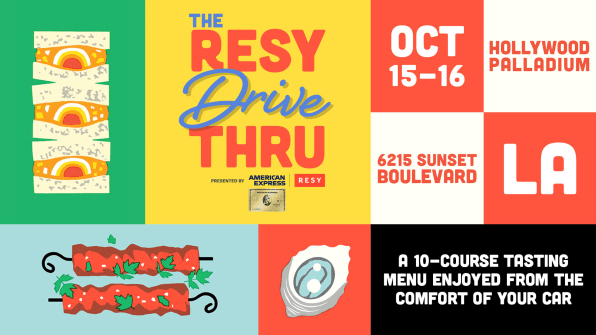 Ten of L.A.'s most beloved restaurants will come together to serve diners—in a way that you've never experienced them before, designed with COVID precautions in mind.
In partnership with American Express® Gold Card, Resy is transforming the exterior of the Hollywood Palladium into a whimsical labyrinth, which you'll drive through to visit each restaurant pop-up. Don't worry about leaving your car; each dish will be handed to you at each local restaurant's pit stop. -Resy
Restaurants have had to reinvent themselves during Covid, with fine dining hit particularly hard since its value prop comes largely from the atmosphere and experience it creates, which is very difficult to replicate under covid restrictions.
From Fast Company:
The restaurant industry has been pummeled by the pandemic, prompting a wave of creative new dining ideas across the country, from bars offering carry-0ut cocktail mixes to pizzerias transforming into produce stands. Now, 10 well-known Los Angeles chefs are joining forces in an ambitious new experiment.
On October 15 and 16, restaurant tech platform Resy is hosting a 10-course drive-through dinner at the Hollywood Palladium catered by these chefs that could be a model for bringing high-end restaurants back to life. "This could be done in any city," says Mei Lin, chef and owner of Nightshade. "It would require organization and logistics, but it's possible."
The event, called the Resy Drive Thru, is sponsored by American Express. Diners will stay in their cars and move through a track made up of 10 stations, where they'll be served one course prepared by each of the 10 restaurants.
Guests will be served food in single-use containers and given a tray to eat on, which is theirs to keep. Each car will have its own designated waiter who will guide them through the process. (All event personnel will wear gloves, masks, and face shields; they'll also be tested for COVID-19 before they arrive at the event, and will have their temperature taken at the door.) The entire experience costs $95 per person, and can be purchased in groups of up to four in a single vehicle. There is room for 600 guests over two nights.
It was obvious from the start that it wasn't possible to mimic the charm or elegance of a dining room, but this project prompts chefs to think outside the box.ng
The dining industry is currently being devastated by COVID-19, particularly restaurants that don't have pandemic-friendly options, like outdoor seating or take-out and delivery. The sector has already lost $120 billion and is expected to reach $240 billion by the end of the year. More than six million jobs have been permanently cut.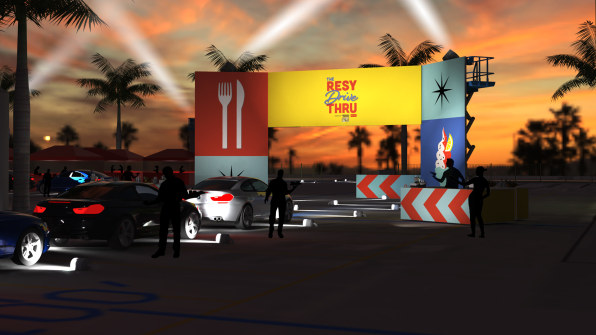 Why it's hot: Fine dining is all about having a special experience that rises above the typical and the common. It's interesting to see how these fine dining restaurants are trying to achieve that proposition during covid, and how they make — and sell — a unique experience to potential guests.
Source: Fast Company