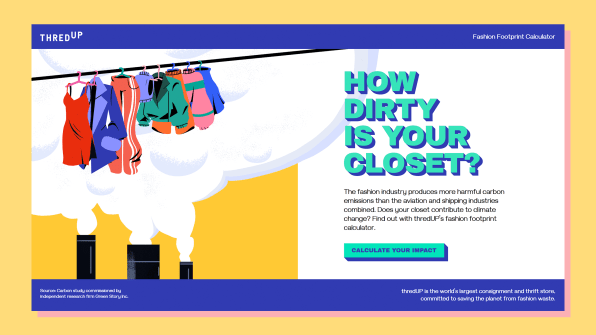 Behavior change is very hard and the second-hand ecommerce fashion retailer ThredUp relies on it as a key component of their business model. To aid their efforts to convert new-clothing buyers into used-clothing buyers, they just launched their fashion footprint calculator.
We've all heard about the carbon footprint of our cars and our eating habits, but we mostly ignore our closets' role in ruining the planet. However, the fashion industry is one of the world's biggest polluters, thanks in large part to the the fast-fashion trend.
Fun Fact: "Fashion is responsible for 92 million tons of solid waste per year globally, representing 4% of the 2.12 billion tons of waste we dump globally each year. That is more than toxic e-waste, and more than twice as much as supermarkets toss in food waste." –EcoCult. This is bad because clothing is organic material, meaning it releases methane in landfills, a greenhouse gas that is dramatically more potent than carbon dioxide.
ThredUp is framing itself as the solution to this sustainability problem at the heart of fashion, by scaling second-hand clothing to the level of its new clothing counterparts. And it turns out that buying used clothing can have a pretty big impact.
"Lifecycle analyses of garments have found that buying used garments instead of new reduces your carbon footprint by between 60% and 70%." -Fast Company
Why it's hot:
1. Much like the global average temperature, awareness of our impact on the environment is ramping up exponentially. It's interesting where different brands fall on the sustainability spectrum and how they use that position to promote themselves.
2. Our impact on the climate threat is a vague concept removed from our direct experience of short-sighted pleasure seeking and impulsive desire fulfillment. Personalizing the impact of one's habits makes clear the need for personal change, and importantly, offers a simple way to make a difference, without sacrificing one of life's chief pleasures.
3. ThredUp's business model is based on the second-hand clothing market. Beyond the price savings, ThredUp needs to develop RTBs that will inspire loyal customers. If people are more aware of the impact their fashion-purchase habits have, they may be willing to consider the second-hand clothing platform, giving ThredUp a chance to turn them into loyal customers and advocates of reuse to their friends.
Source: Fast Company