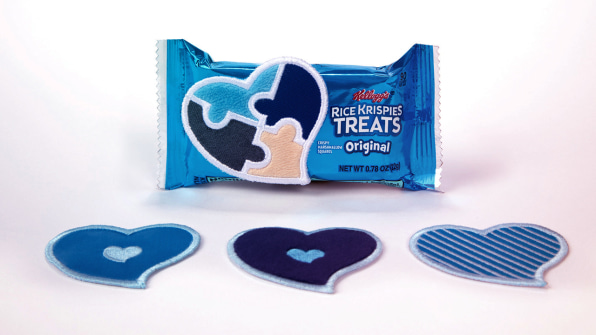 Last year, the Kellogg cereal brand teamed up with the National Federation of the Blind to create specialized "Love Notes" with phrases like "You've Got This" to "Love You Lots" written in braille for parents to share with children who are blind. Now Rice Krispies is continuing its mission with a new kind of love note, one designed with children living with autism or on the autism spectrum.
Since not every child communicates love through words, the cereal company partnered with Autism Speaks to create touch-and-feel sensory "Love Notes" so children can actually feel love and support as they transition back to school. The four "lightly reusable" stickers come in a range of supposedly calming colors and different textures, including fleece, faux fur, satin, and velour for sensory-focused kids to feel the love through a tactile experience.
Why it's hot:
Kellogg's expansion of its "Love Notes" write-able wrappers demonstrates the brand's commitment to all parents – providing an otherwise under served audience (parents with children with autism and children who are blind) – helping them provide their children with love and support anywhere they are. They found a simple way to make love notes meaningful to any child.
Sources: Fast Company, Kellogg's Love Notes