The San Fransisco tech-forward restaurant Creator has made their new airlock system (for providing take-out orders during the coronavirus crisis) open source for any other businesses that need to protect their workers from the many possibly infected people coming to their locations.
Makezine:
The chamber is pressurized by a Sanyo Denki 24-volt 65CFM blower regulated by simple LM317 voltage regulator circuit. The conveyor belt feeds itself through a 5 gallon bucket of quaternary sanitizing solution. Customers can order through an intercom, and their takeaway bags are heat-sealed and labeled with a tamperproof sticker just to be extra super sanitary.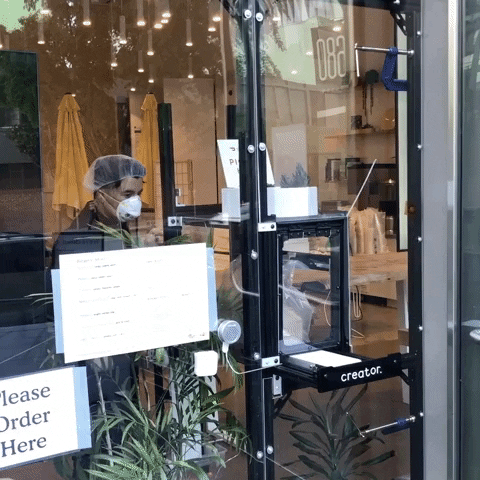 Fast Company:
"Retail workers are on the front lines, exposed to hundreds of strangers every day in enclosed spaces," says Creator founder Alex Vardakostas. "If retail workers fall ill, they are in turn at risk of infecting delivery workers and customers. We can't restart the economy until retail and restaurant workers are protected. They're some of the most important people to keep virus-free."
This falls directly in Creator's wheelhouse, as they are known for being the first to automate the making of a fully prepared burger with the beautiful machine above. Fast-moving innovations like the airlock promote the restaurant brand as a function of doing good for their workers, which is of such concern with service workers right now, and gives customers more piece of mind as they look for safe places to procure food and have a sense of normalcy in these difficult times.
Fast Company:
The restaurant's team has unusual engineering skills—when Creator opened in 2018, it became the first in the world to make fully prepared burgers with a robot that handles everything from slicing the bun and cooking the patty to chopping up onions and tomatoes. For customers in the current pandemic, there's some added comfort in the fact that the process minimizes human contact; the machine even packages each burger itself. But the storefront still needs staff to get the food to customers waiting to pick it up, and last week, engineers and fabricators set to work on the new airlock-like window.
Why it's hot:
1. The world needs fast-moving innovation right now, and there's nothing like giving your innovation away for free to garner media recognition and positive public sentiment. The earned media from their design and their gesture will pique the interest of many, who will discover even cooler offerings coming out of the brand's innovative approach — like a $6 gourmet burger in San Fransisco.
2. Making this design open-source may help other restaurants move quickly to implement solutions that work for them — but it mostly promotes the brand as being next-level, and getting it hyped in publications like Fast Company.
What IP do brands have that could function in a similar way, helping the public in a way that shows off their unique offerings or abilities (instead of donating money), while garnering positive sentiment and media attention?
Source: Fast Company, Makezine