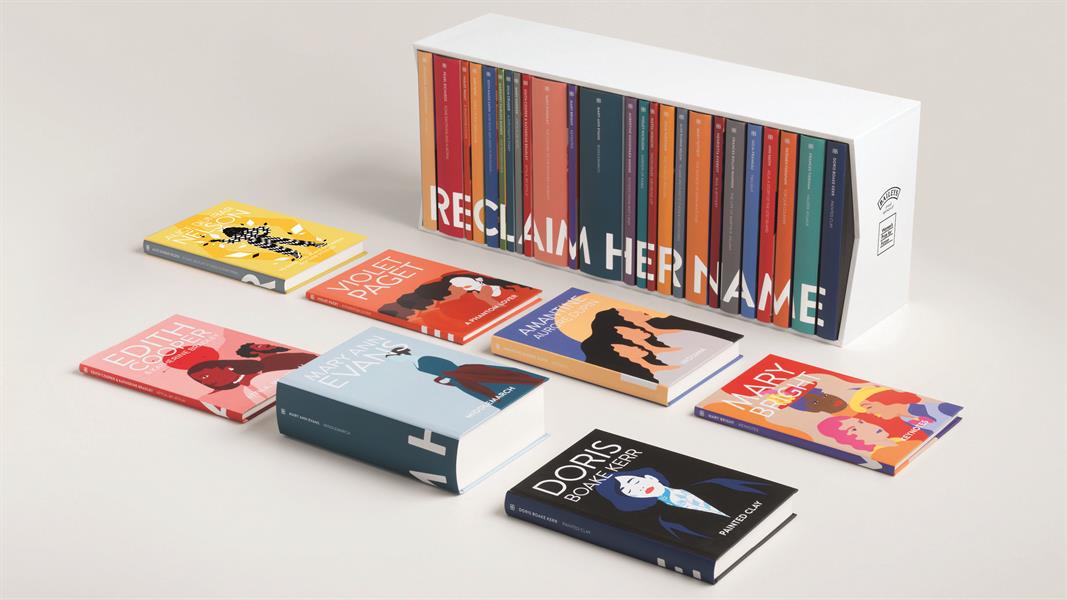 Mary Ann Evans and Amantine Aurore Dupin probably don't ring much of a bell for most people, even those who are avid readers of literature. Definitely not as much as these women's exalted noms de plume "George Eliot" and "George Sand", pseudonyms these brilliant women took on in order to get their work published and read in a world that overwhelmingly ignored or disdained the expression of women. Some smart folks at VMLY&R decided to help change that, and to honor women authors, by publishing their work in their true names in celebration of the 25th anniversary of the Women's Prize for Fiction in the UK.
From Campaign:
Baileys has partnered The Women's Prize for Fiction to create a collection of novels that were written by women but originally published under male pseudonyms.
Over the centuries, many female writers have felt compelled to publish work under a male name to be taken seriously. To highlight this, the Baileys' collection celebrates the work of  writers including Mary Ann Evans, Ann Petry and Amantine Aurore Dupin (pen names George Eliot, Arnold Petri and George Sand, respectively) to mark 25 years of The Women's Prize for Fiction.
Last year, the Irish liqueur brand launched a series of events around the Women's Prize for Fiction, including a "Baileys book bar" pop-up at Waterstones on Tottenham Court Road, London.
From Creative Brief.com:
The campaign honours and celebrates female authors and will include the first ever publication of Middlemarch under George Elliot's real name, Mary Ann Evans.
Each of the 25 books in the library features newly commissioned cover artwork which was created by female designers and the full collection will be available to download as free e-books. The team carefully selected each of the 25 books, searching archives, online and university resources to identify female writers who disguised their gender with pseudonyms. The collection includes A Phantom Lover by Violet Paget (pen name Vernon Lee) and Marie of the Cabin Club by Ann Petry (pen name Arnold Petri).
Liz Petry, daughter of Anne Petry, explained her pride at her mother's inclusion under her own name. She says: "When I was asked if my mother's work could be included within such a worthy collection of books along with other impressive female writers, I was honoured. I'm incredibly proud of my mother's work and it excites me that her writing has been introduced to a new audience through this collection. I know she would be thrilled to be a part of this as it's an incredible conversation starter for such an important cause. My mother always believed in a world with shared humanity and I think this project encapsulates that."
Tamryn Kerr, Creative Director, VMLY&R added: "Many of the authors we selected were suffragettes and staunch feminists. I'd like to think of this project as our way of thanking them for what they did for us, and of supporting a new generation of artists through the new cover art that 13 inspiring female illustrators, from all over the world, created for the Reclaim Her Name collection."
What happens when you google Middlemarch…
THIS…
TO THIS…
Check out all the other titles being published
Why it's hot:
1. Middlemarch, first published in 1871, will be published under the author's real name for the first time.
2. This gives other publishers more permission to publish these titles with the authors' true names. And on the flip side, in this day and age, would a publisher be bold enough stupid enough to continue to publish Middlemarch under the name George Eliot? In 50 years, will Mary Ann Evans be more well known than George Eliot?
3. Baileys seems like an odd pairing, but it's smart of them to attach themselves to an undeniably positive movement in the literary world.
Source: Creative Brief