Casper's new nightlight, the Glow, is far more than the nightlight you may have had in your bedroom as a child. While the product was inspired by the less harsh feeling of candlelight or lamplight, the Glow is future-forward. It's a customizable connected device that can help improve sleep.
The light is meant to ease you into sleep by syncing with your body's circadian rhythm, and slowly dimming as you prepare to fall asleep.
The Glow is connected to an app so that users can easily program the length of time the light takes to dim–from fifteen minutes to an hour and a half. Once the settings are saved once, the light will activate the same way each time someone picks it up to get it started. The light can also be twisted to dim or brighten manually.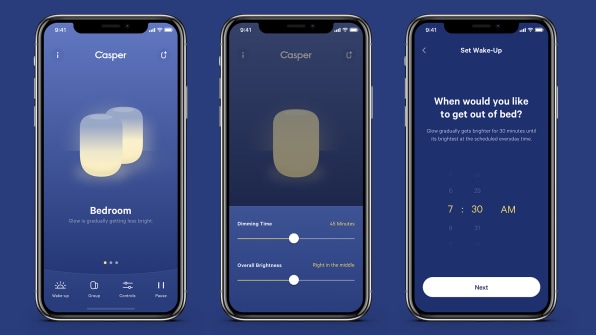 The light, which retails for $89 or $169 for two, primarily sits on a charging base, but is also portable. The idea is that if you are getting up in the middle of the night, you can pick up the Glow and bring it with you, illuminating your way without disturbing a partner or having to flip on bright overhead lights that can single your body to wake up.
Why It's Hot
As wellness and self-care continues to be such a pervasive topic, consumers are very aware of the importance of getting a full night's sleep, and willing to try new strategies and products to help them break the habit of staring at their phones in bed. With competition increasing from other mattress companies, Casper is pushing ahead into becoming more of a lifestyle brand with a holistic approach to sleep.
Source: https://www.fastcompany.com/90293556/the-future-of-jeans-inside-the-levis-innovation-lab-bringing-denim-into-2019