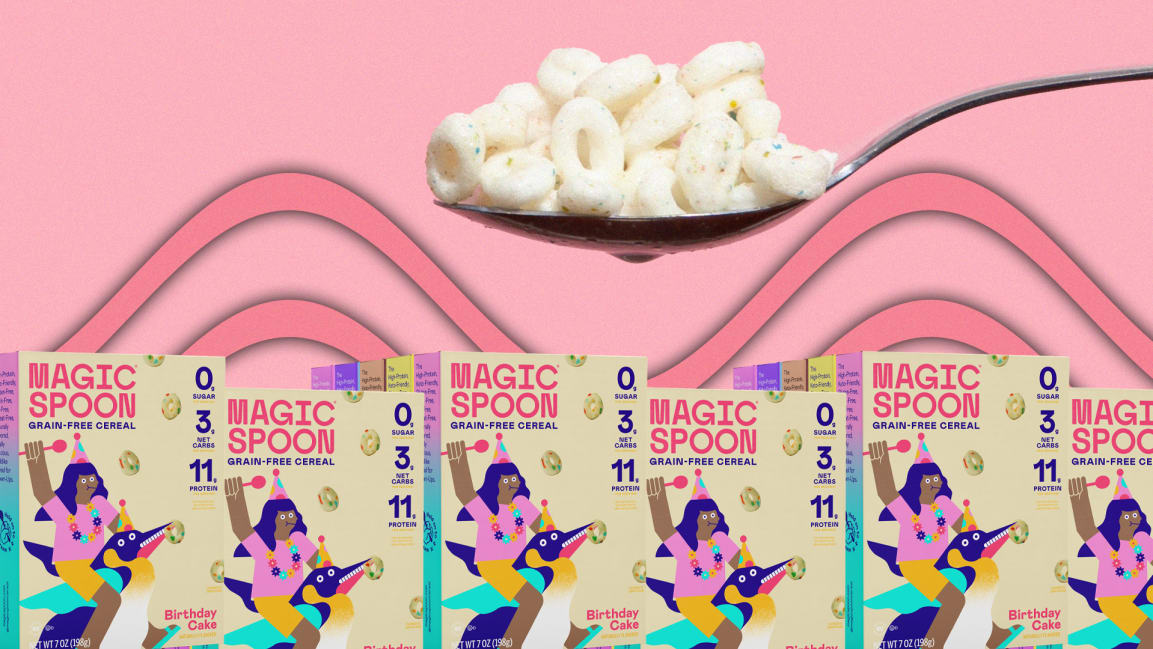 When it comes to shopping in a pandemic, it turns out people crave two things: comfort and convenience. It's why, a year after launching its direct-to-consumer, guilt-free "kids" cereal for grown-ups, Magic Spoon's business is booming.
"We've seen a meaningful uptick in demand from new customers just discovering us or finally giving us a try," says cofounder Gabi Lewis. "It's also existing customers, who maybe ate a bowl in the morning before work but now that they're at home, are eating another bowl in the afternoon for a snack, so consumption has gone up."
Last April, Lewis and his cofounder Greg Sewitz first launched Magic Spoon to tap into millennials' nostalgia for the kiddie cereals of their youth while staying true to their commitment to eat healthy as adults. They took flavors that mimicked such classics as Cocoa Puffs, Fruity Pebbles, and Frosted Flakes—and delivered it in a high-protein, low-carb, and no-sugar cereal. Combined with a packaging and product design that was highly Instagrammable, Magic Spoon's popularity took off immediately, and it hasn't slowed down.
In terms of the cereal market overall, he thinks Magic Spoon isn't taking market share away from traditional cereal, but rather adding to it by bringing new customers back to the category. "Many of our customers weren't eating cereal before we came along," he says. "Maybe they did years ago, then stopped and instead started eating Greek yogurt or smoothies or oatmeal, or any number of healthy breakfast alternatives. So I think a lot of our growth has come from other categories, bringing them back to cereal, and I think it's helping to build the cereal category as a whole."
Just as many of us have become more accustomed to videoconferencing than we ever imagined, Lewis sees a similar shift in consumer behavior around buying groceries online. "Obviously there's been this uptick because of people stuck at home and stocking up, and we're under no illusion of that lasting forever," he says. "But there are people buying food online right now who just didn't before all this. I don't think all that is just going to go away, and a good portion of those people will continue to do it once this is all over."
Why it's Hot:
As people seek alternatives to grocery store visits and grocery delivery becomes increasingly scarce, DTC food brands are well positioned for the current pandemic (especially food brands that bring people a sense of comfort and nostalgia). DTC brands have already become more popular in the past few years – it will be interesting to see if the pandemic accelerated this trend.