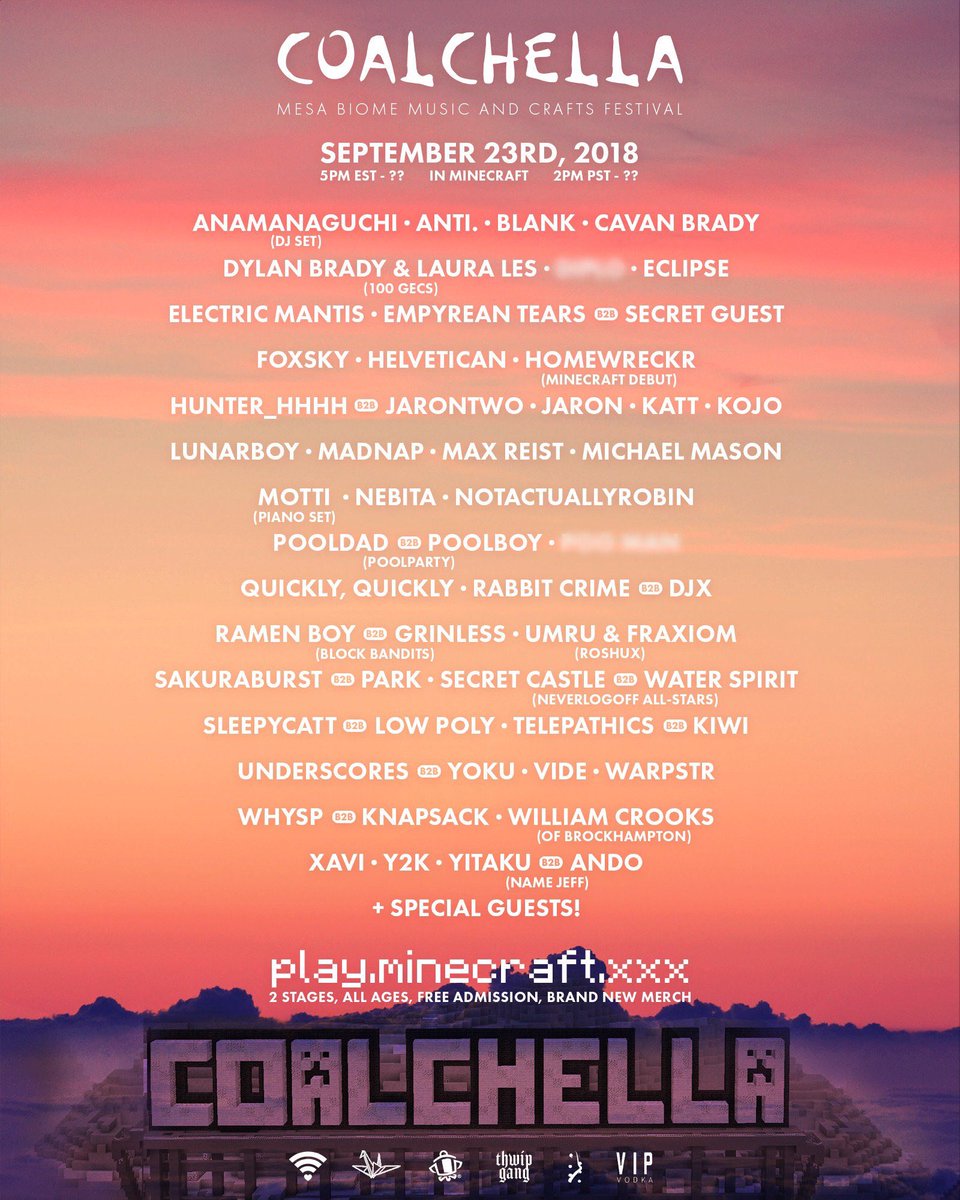 Think of it as all the fun of an outdoor music festival without the crowds—or the outdoors.
In late September, nearly 3,000 people logged on to their Minecraft accounts and got ready to party. The world-building video game has been often used to create larger than life sculptures, buildings, and artworks, but internet-collective Thwip Gang had bigger ideas.
After hosting a Minecraft-based "Birthday Party" for one of their members back in May, the Thwip Gang got to work organizing a full-scale concert completely within the gaming platform. With no more promotion than a few tweets on the organizers' personal Twitter pages, Coalchella drew in 27,000 listeners over its 8 hours across various streaming platforms. ("Coalchella" because in Minecraft one mines coal, among other minerals. Just go with it.)
The free festival required nothing more than a Minecraft account to attend and drew some big name headliners like ANAMANAGUCHI and Electric Mantis. The musical lineup came together somewhat serendipitously—in an interview with the blog Melting of Age, one of Coalchella's creators and Thwip Gang collaborator, Umru Rothenberg said, "It was a very random process of just asking whatever friends came to mind or saying 'this person would be cool' and checking if anyone was mutuals with them."
After entering, festival goers arrived at the stage of their choosing — REDBLOCKS or BEDROCKS — and tuned into a livestream on the broadcast audio website Mixlr. Just like IRL, when the performer's avatar took the stage, the crowd of block people burst into life and the music started. The digital attendees then started dancing and the in-game chat flooded with commentary about the concert.
Why its hot?
Comfortable co-existence with brands without them trying to be controlling:
As if a full-scale two-stage concert "venue" isn't enough, the Thwip Gang also scattered brands and logos thoughout the virtual site. An IHOb restaurant, a giant Bass Pro Shops Pyramid, and an overhead IKEA blimp were among those featured. Only there was a catch: None of the brands knew their logos were being used for the event — they were mostly plastered around Minecraft as cultural touchstones.
"What will always be most important to me is…that [brands] are not influencing, openly or otherwise, what I am experiencing in any way," says co-organizer Robin Boehlen, "We can coexist with brands without them becoming controlling."