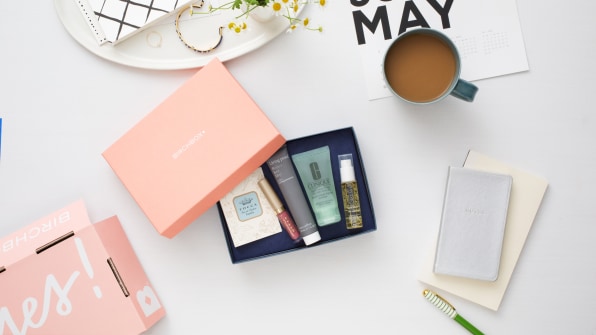 Today, the two companies announce that they're joining forces. Birchbox will be taking over a big chunk of the floor space at 11 Walgreens locations over the next few months. In December, the first six stores will open in New York City, Chicago, Los Angeles, and Minneapolis, and then in early 2019, five more stores will open in Chicago, Dallas, Los Angeles, and Miami.
These new retail spaces–which range from 400 to 1,000 square feet–will look like mini Birchbox stores. Birchbox will curate full-sized skincare, makeup, and hair products from more than 40 brands. These are brands that Birchbox has incorporated into its subscription boxes in the past and has identified as customer favorites. The Birchbox-branded parts of the store will be beautifully designed with warm lighting, pops of color thanks to interesting wall paper, framed Birchboxes as artwork, and powder-room-inspired makeup stations.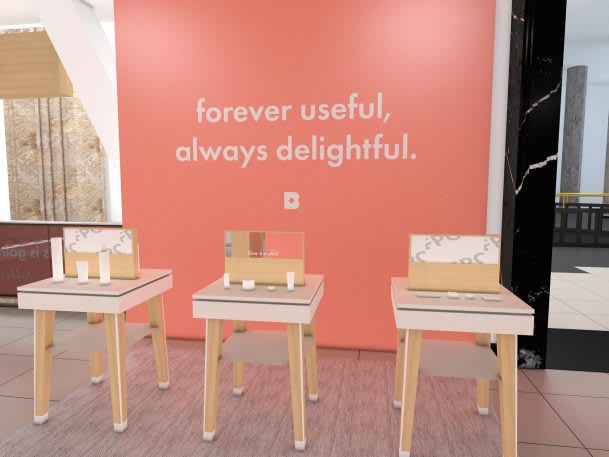 Since 2016, the drugstore company has been investing more heavily in beauty, by bringing in new brands like NYX and No7, introducing a beauty loyalty program, and introducing 3500 beauty consultants into select stores. "We've been working on elevating and differentiating our beauty experience," Lauren Brindley, group vice president of beauty and personal care at Walgreens. "We're trying to give our customers a reason to shop beauty more often."
While Birchbox is continuing to focus on its subscription box business, it will also be translating its core premise–making beauty discovery fun–into a physical store experience with this Walgreens partnership. There will be Birchbox-trained beauty consultants on hand to help guide the customer through the space and introduce them to new products. And there will even be a Birchbox-specific cash register, so the entire experience will feel separate from just going for a drugstore run.
"I think a big part of our realization at Birchbox–and this really resonated with the Walgreens team–was that there is a huge opportunity to serve the masses by allowing them to stay passive, but give them the same kind of pleasurable experience of someone who is beauty-obsessed," Beauchamp says.
In keeping with Birchbox's expertise in sampling, customers will also be able to build their own Birchboxes by selecting from jars of product samples. There will be feature tables where customers can check out new brands and products."We continue to find over and over again that the little beauty sample is just really delightful," she says. "The price point is so acceptable to everybody, and the samples kind of look like candy when they're all sitting next to each other."
Why it's hot: This is a great example of a strategic partnership that benefits both brands — expanding Birchbox into new clientele and retail locations, and elevating Walgreens beauty offerings.
Source: FastCo