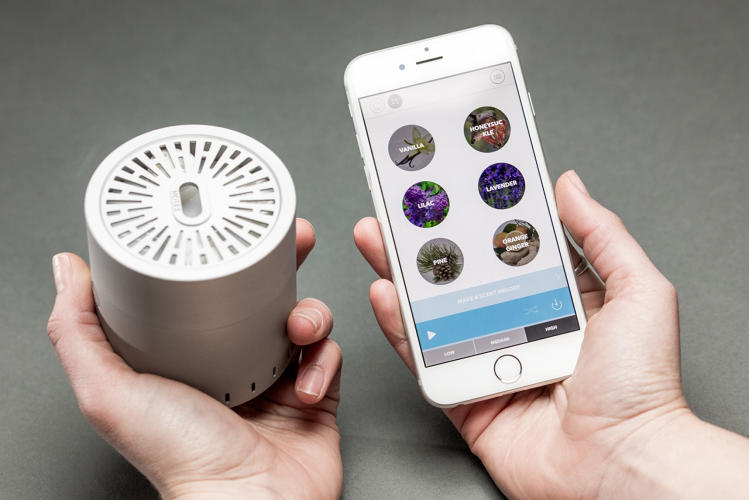 Cyrano is a "digital smell speaker" and the latest endeavor from Harvard professor and serial inventor, David Edwards—known for such madcap creations as smokable chocolate, edible food packaging, and inhalable alcohol.
Cyrano is a compact, portable device that emits 12 different scents that users can mix and match to create a "playlist" they can control via an app. The scents are divided into smells that are energizing, relaxing, and escapist. Selecting "Get Away," for example, will give you a tropical melody of Bellini, guava, coconut, and suntan lotion; meanwhile, "Get Energized" will wake you up with scents like peppermint and orange ginger.
Edwards and his team are focused on incorporating curated scents into our environments to improve our well-being. He sees it as similar to how sunlight or sound can improve your mood. "From a conscious point of view, our perception of scent is secondary [to light and sound]," he says. "But from a emotive point of view, it is primary. In particular, in relation to wellness, scent is far more powerful than light or sound."
At a conference, Edwards used data to explain how Cyrano can improve our lifestyles and well beings: "There's a lot of data around wellness and driving," he says, citing statistics that about 14% of driving Americans fall asleep in the car a day. "The car is also the perfect-sized space for containing a scent so that it doesn't dilute or mix with other smells." Cyrano is designed to fit snugly inside a car cup holder and can play "scent melodies" to keep you energized or emit odors that calm you down. The playlist is timed to shift scents every eight minutes in order to avoid olfactory fatigue—the point at which you become so used to the smell that you stop noticing it.
Perhaps the most interesting potential application for Cyrano is medical—and Edwards is already exploring it with the help of Richard Doty, director of the University of Pennsylvania's Smell and Taste Center. Doty's research focuses on how scent detection correlates with disease—loss of scent is seen as an early detector for Alzheimer's and Parkinson's, for example—and sees the app as a way to administer scent tests digitally. Eventually, Edwards says, they could adapt scent tests to broad public use, so that individuals could check their health in the morning with their own custom scent track. According to Doty, "humans actually have a very advanced sense of smell, we just don't exercise it as much as other animals".
For now, Cyrano is being released in a limited run of 500 devices—available here for $149—with a full product release later this year.
Source: FastCo
Why is this hot?
In a modern world where natural scents are lost in the madness of industrial odors, stimulating our senses to improve our health and wellness is like going back to our origins.