Good, Cheap and Fast (GCF for short), is an e-tail website designed to take the effort out of e-shopping.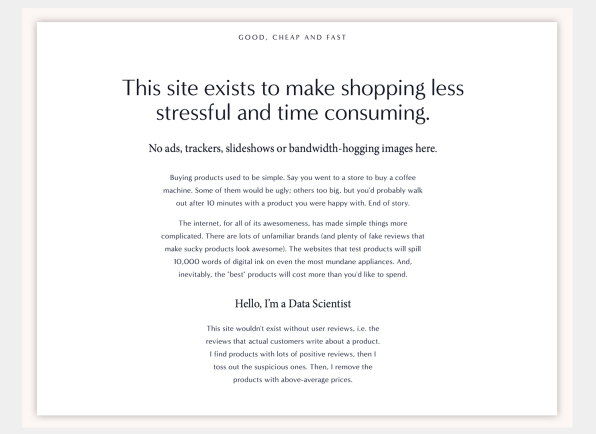 Source: https://www.fastcompany.com/90274504/hate-browsing-amazon-this-is-the-ultimate-no-frills-shopping-site
To that end, the site doesn't waste effort on frills like "bandwidth-hogging images" or "spill[ing] 10,000 words of digital ink on…mundane appliances." To DeFeo–a former designer–the job to be done here is simple: "save people time," he says. Thus GCF's Craigslist-esque, all-text aesthetic. (It does have nicer fonts, though.)
GFC's design is based on the philosophy that not everyone is a maximizer: people who, intimidated by the internet's abundance of options they want to know which one is the best. Who they are targeting is users who they call "satisficers" – people who just want something good enough without breaking the bank.
The site is curated by using a combination of existing shopping tools and plugins that filter out suspicious or spammy product reviews and then eliminates more by "measuring the relationship between 1, 2, 3, 4 and 5-star reviews, with an eye toward quality control issues."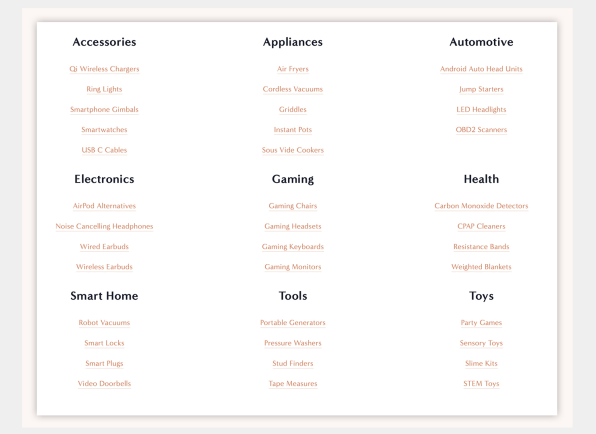 Why It's Hot: 
Sometimes we need to remember that less is more.